About Us

Founded in the year 2010 by Mr. P. C. Sahoo, Casmas Engineering is a proprietorship company. Shortly after its inception, the company quickly built a good name for its products in the Bhubaneswar market. Based near Cuttack, Odisha (India), we are known as a professional Manufacturer, Wholesaler/Distributor, Supplier & Trader of Building Centering Material. We have necessary resources and manpower to design and manufacture Hydraulic Bar Cutting Machine, Centering Plate, Cuplock System, Tabular Scaffolding, Adjustable Telescopic Span, Adjustable Props, Steel Shuttering and Column Farma. Moreover, we are a trader of MS Pipes and MS Tubes.
Further, we are proving hiring and rental services of Props, Telescoping Props, Steel Props, Scaffolding Accessories, Coupler, Scaffolding Clamp, Steel Shuttering etc.


For five years now, the company has provided an exceptional level of service and support to our clients throughout the country. A design, engineering and quality control staff with years of industry experience is assembled in order to efficiently satisfy the client requirements. The company operates a dedicated, 20,000 sq. ft. completely equipped manufacturing facility; wherein our professionals precisely manufacture the high performance range of hydraulic bar cutting machine. Made of malleable casting nut, 12g MS chain, top plate and base plate, our adjustable props are available in four different sizes. The Tubular Scaffolding Systems made out of 2 mtr. x 2 mtr. Staircase, 1 mtr. x 1mtr. Cross Bracing and 1 mtr. x 1mtr. Base Plate.

Innovative building centering material, design and strength, together with an experienced team, has enabled Casmas to respond to the unique needs of our clients. All products like Props, Adjustable Telescopic Span, Adjustable Prop, Telescoping Prop, Steel Props, Cuplock Scaffolding, Steel Shuttering, Steel Centering, Building Centering Material, Centering Plate, Slab Farm, Scaffolding, Scaffolding Pipe, etc., are designed, manufactured, and supported by Casmas.

Our Strength

We firmly believe that providing quality hydraulic bar cutting machine is a key to business success. Therefore, we, at Casmas, provide high and consistent quality of goods that we purchase or produce.
We are a client-oriented company, which believes in maintaining long-term & beneficial relationship with our clients, rather than emphasizing on short-term benefits.
We also provide growth opportunity in terms of social & economic, to institutions or organizations who work with us or work for us.
We maintain good working conditions.
"We are dealing only in Bhubaneswar, Odisha & nearby local areas."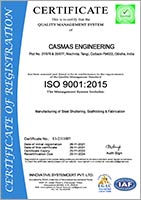 Read More